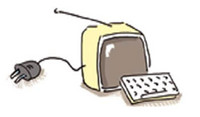 Total screen time, as an indicator of sedentary behaviour, showed significant association with overweight and obesity. Total screen time increased significantly by age (higher in school children than in pre-school children) and showed large variation between countries.
According to the present data the recommendation of <1 hour/day screen time for kindergarten children and <2 hours/day screen time for school children seems to be reasonable.
Following articles from our consortium show further results on media consumption and sedentary behaviour:
de Moraes AC, Carvalho HB, Siani A, Barba G, Veidebaum T, Tornaritis M, et al. Incidence of high blood pressure in children - effects of physical activity and sedentary behaviors: the IDEFICS study: High blood pressure, lifestyle and children. Int J Cardiol. 2015;180:165-70.
Hinkley T, Verbestel V, Ahrens W, Lissner L, Molnar D, Moreno LA, et al. Early childhood electronic media use as a predictor of poorer well-being: a prospective cohort study. JAMA Pediatr. 2014;168(5):485-92.
Verbestel V, De Henauw S, Bammann K, Barba G, Hadjigeorgiou C, Eiben G, et al. Are context-specific measures of parental-reported physical activity and sedentary behaviour associated with accelerometer data in 2-9-year-old European children? Public Health Nutr. 2015;18(5):860-8.
Santaliestra-Pasias AM, Mouratidou T, Verbestel V, Bammann K, Molnar D, Sieri S, et al. Physical activity and sedentary behaviour in European children: the IDEFICS study. Public Health Nutr. 2014;17(10):2295-306.
Lissner L, Lanfer A, Gwozdz W, Olafsdottir S, Eiben G, Moreno LA, et al. Television habits in relation to overweight, diet and taste preferences in European children: the IDEFICS study. Eur J Epidemiol. 2012;27(9):705-15.